Dominion: Seaside + Alchemy Session Report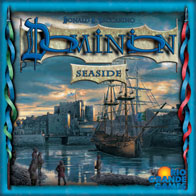 This was a random supply from Dominion: Seaside and Dominion: Alchemy. There were six cards from Seaside and four from Alchemy.
The Supply consisted of: (view cards here)
Apprentice, Apothecary, Bazaar, Familiar, Ghost Ship, Haven, Navigator, Smugglers, Vineyard, Wharf

Seeing Vineyards in the Supply I was thinking to build up VPs with them while hurting my opponents with a couple Familiars. It almost worked but Jeff just edged me out.
Scores:
Me – 23
Meredith – 17
Jeff – 26
Matt – 9
Jim – 20
The second game using this Supply I thought I'd tweak things a little. I figured a couple Potions and Wharfs would help me get more Vineyards. They did but I never got a Familiar and fell prey to having too many Curses. I was able to trash one or two with Apprentice, but that wasn't quite enough.
Scores:
Me – 16
Meredith – -1
Jeff – 11
Matt – 20
Jim – 5